Dragon Knight – Become the slayer of dragons!
We live in times when the beautiful world of gamers is divided into several quarreling factions. On one side we have comfortable console gamers, on the other, fans of the mouse and keyboard set. Producers wanting to satisfy the needs of hungry gamers of both platforms are outdoing themselves in releasing newer and more beautiful productions. Unfortunately, if your favorite gaming hardware is PC, the constant pursuit of new titles may prove too expensive for you. Is it possible to create a good and playable title for the minimum hardware requirements? It's definitely a tough task. So let's see if Dragon Knight is the production we're looking for.
Something new?
Dragon Knight is a fairy tale MMO, for which we need a browser and a good internet connection. So it doesn't require installation. After choosing one of the recommended servers, we face, as always, a difficult choice of character class. We can fight with the great lizards as a knight, shooter and of course mage. This is not my first browser MMO, so right after logging into this interestingly drawn world, I turned off the background music. Some people may find these songs quite calming, but in my opinion they do not fit into the atmosphere of the game. Both the visuals and interface bore a striking resemblance to the one from the League of Angels, so I immediately knew what a fantastic adventure awaited me. Surprisingly, the character I've just created was in full gear, so the burning flame that usually pushed me to collect more and more new items dimmed a bit.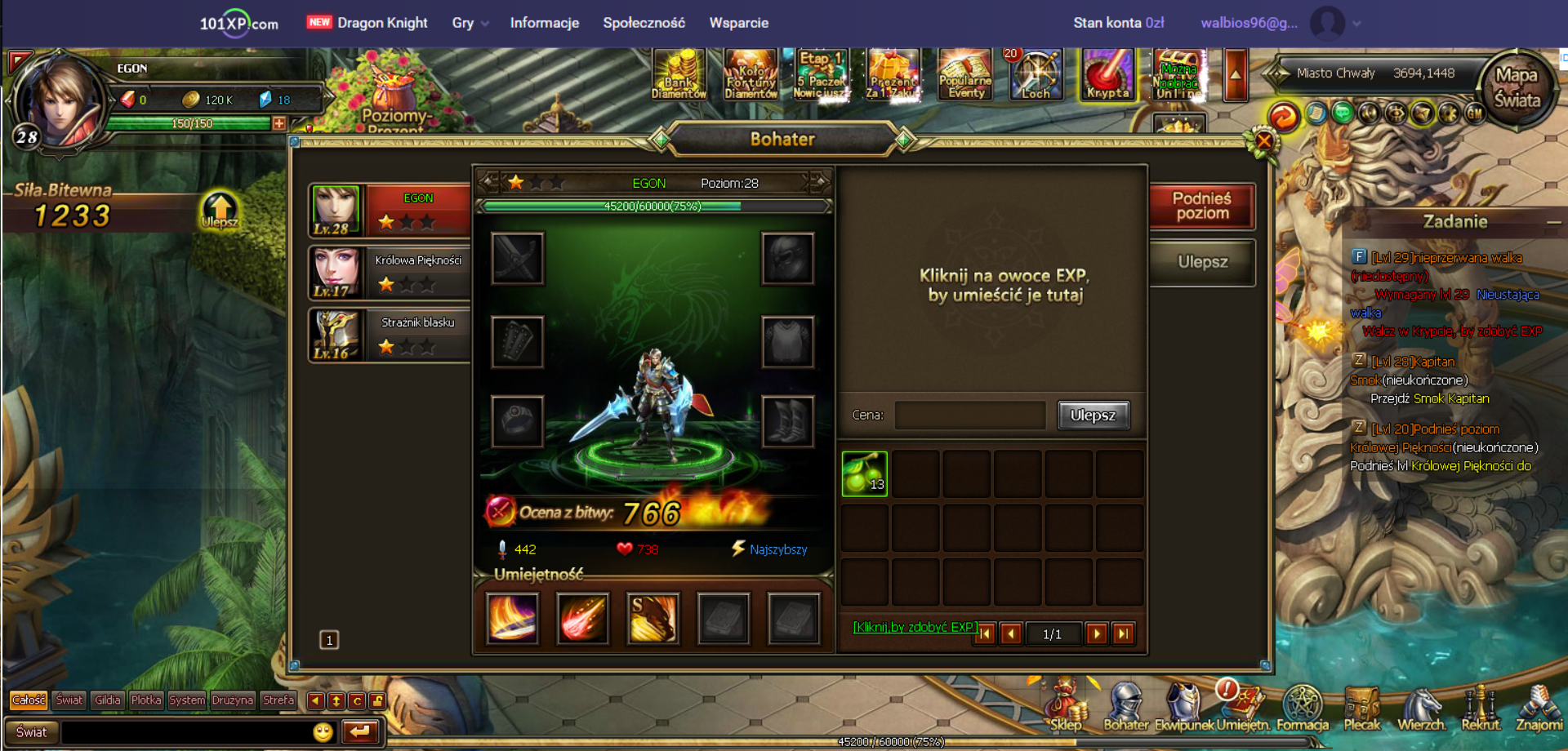 A familiar tale
The creators have not prepared any surprises for us. The chosen one, who was of course me, would help save the world. This was to be expected, but I heard it from the second person I met. Combat system doesn't require a tutorial, and the whole game can be played with left mouse button. After the first few battles I can safely say that I'm completely bored. After reaching level 25, the battle mode could be set to AFK, which didn't need any player interaction. Opponents didn't put up much resistance and just after using the first skill they politely lay down on the ground. Although I felt like the biggest guy on the block, but it took all the fun out of the game. The fight is turn-based, and we are supported from all sides by our allies, to whom we had to present our strength in a clash. Just like the main character, each member of the team uses their own skills, gains levels, and has their own equipment. Next levels come easily, I would even say very easily. Before I knew it, my knight had already reached level 15. So I recommend not to blink, because we can miss the hero advancement.
Polish is a difficult language
The game is fully polonized, but there are often errors in translation. The message and context is retained, but it can sometimes sting. For a world where magic is the order of the day, the gameplay lacks any trace of mysticism. We are only reminded by the characters we encounter every now and then, such as "God", "Goddess" and "God of Gods". Especially the last one did not appeal to me. A senile old man modeled after the mighty Zeus, hurling lightning bolts through his weapons and body. However, it loses all its seriousness when one time it greets you with a sentence starting with a strong "LAH". The interface looked pretty good. Despite the number of available windows, it's quite clear, which I especially appreciate. It couldn't do without micropayments, but I think that's standard in this kind of MMO.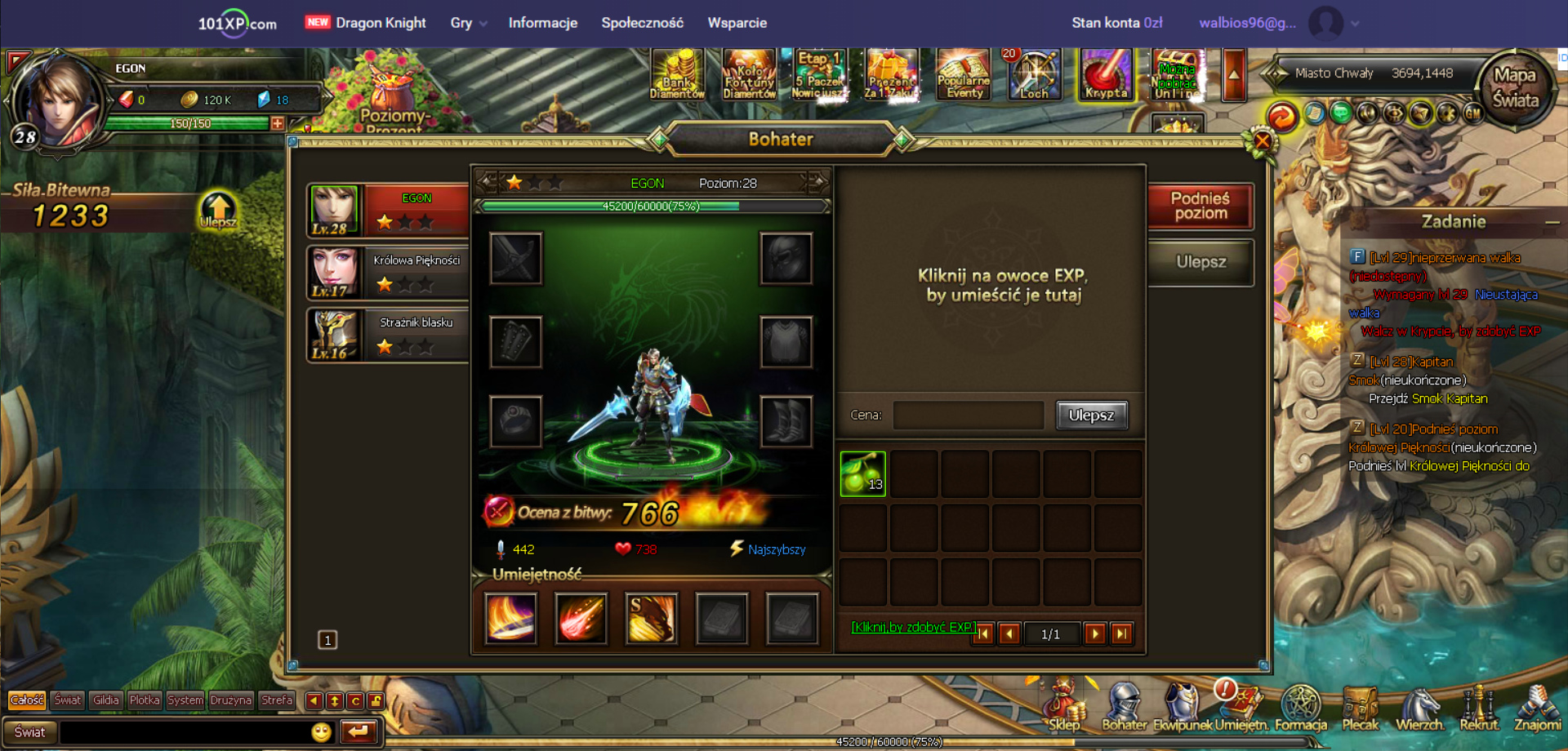 A breath of fresh air?
Certainly not. Apart from different plot and a few less important elements Dragon Knight doesn't differ from other MMO browser titles offered by the competition. Although the game's visuals aren't challenging for most standard computers, I wouldn't call it a good alternative to high-end games. Predictability, cliched story and quickly boring gameplay made Dragon Knight a one-day adventure for me. Who knows, maybe it will be different for you.