Dead or Not Alive – You don't only live once
Another morning. I get up in the morning, make myself a cup of coffee and start my daily ritual before going to work. A tedious, twenty-minute bus ride gives you enough time to solve a cluster of thoughts collected yesterday evening. We are limited by everything that surrounds us. Every decision we make, or the ways we deal with problems are one of many factors that stem from who we already are and at the same time define us. We are guided by morality for fear of remorse or other kinds of consequences. How about entering a world where everything is allowed? who we will become? Check it out now!
Welcome to the Wild West
Revolvers, untamed terrains and extravagant hats. But what else is "Dead or Not Alive"?? As you can read on the official website it is "a game created entirely for players, by players", whether thanks to this we can find in it elements that we lacked in other productions of this type? Definitely yes. The game presents the world of the wild west tightly closed in our browser. This makes it easier to move our cowboy and in addition the production does not lose its charm. The interface is very clear, we can easily find everything that interests us, and the nice graphics only enhance the atmosphere. Creating the characters doesn't leave much room for manoeuvre. Unfortunately, we only have a choice of gender and name at our disposal. We start the adventure with basic equipment and a large amount of cash. We will have enough money for a short visit to the store, and the purchased items will allow us to find ourselves more easily in the new, dangerous world.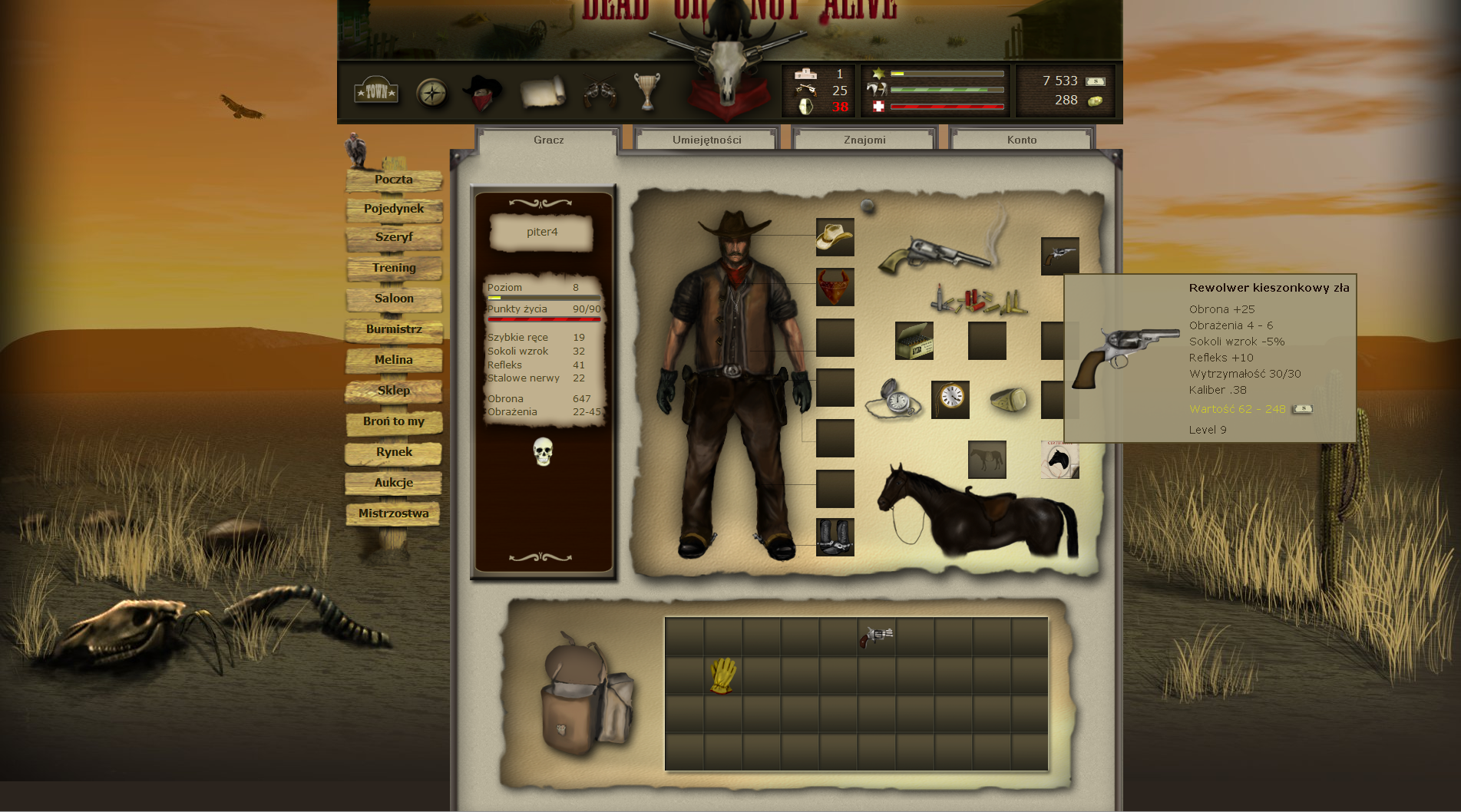 Fasten your seatbelts
You can start the adventure as soon as you log in for the first time. At the start a nice tutorial and a lot of sightseeing awaits us, but after a while we can focus on the game. Available missions have similar objectives, which makes that after some time we no longer read in their content, but only go into "automatic" state. The only hint of freshness is choosing a higher difficulty level of the task we are considering. An interesting option, which I never had the opportunity to see before in games of this type, are the missions performed in teams. Sometimes the opponent is so strong that a single Cossack is not enough. The introduction of such a solution promotes faster player development .These are not the only unique quests you will encounter on your way. The decisions we make can have an impact on later gameplay, and this on the development of the character. Not only noble missions are available to our character. In a place known as the den we can give vent to the external forces of evil and become the most dangerous bandits in the entire Wild West.
From zero to hero
In this cowboy world there is a very interesting system of character development. We can use a typical manual training, which will increase individual stats for a small fee. If we have no new items available and our wallet is bursting, this is a very good way to spend your dollars. The next step in increasing your skills is to manage your skill tree. You will find there very useful skils, which will allow you to perform epic tasks, or at least make them a little easier for us. Unfortunately the graphics and setting of this tree are not very clear. Remember, skill points aren't everything. The creators boast about 200 thousand items, which are available not only in the store. Many items will probably be obtained by completing tasks, but the best way is to trade with other players. In the available auction we can get items with amazing values, which were gained by more experienced gunsmiths. With a solid supply of cash we can quickly and easily increase our stats.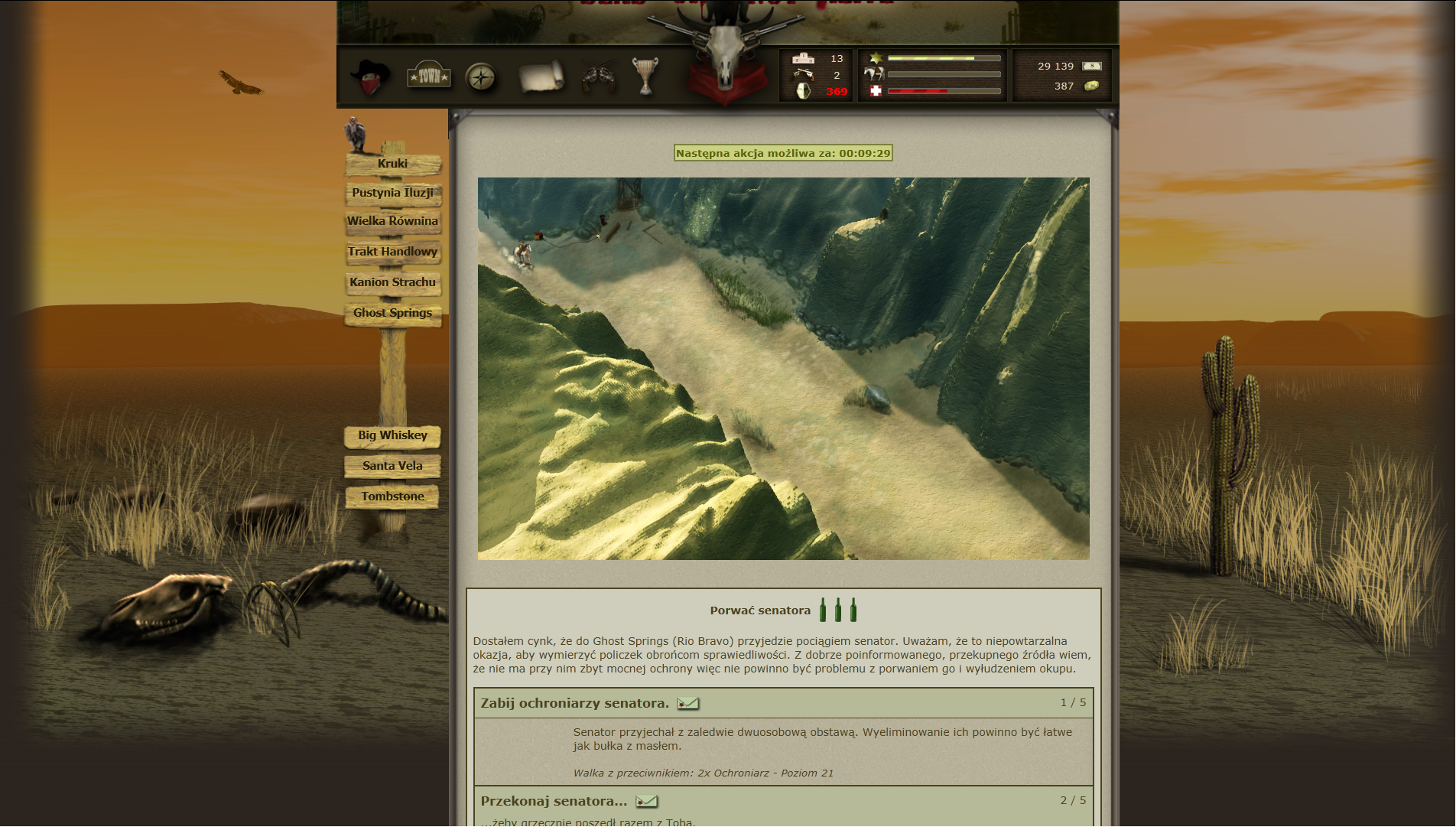 It's going to happen
"Dead or Not Alive" is a very good representative of browser games. The world of gunslingers will definitely attract many adventure-seeking players. There's still a lot of work ahead of the Polish team, but I'm convinced that a bright future lies ahead of them.